Day 9 – Turn fear into flow to give fresh fuel to your relationships.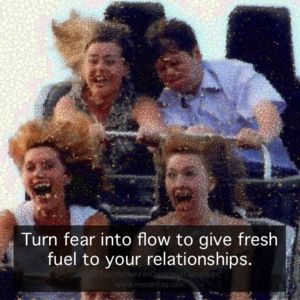 OUR BIGGEST RELATIONSHIP WOWS OVER 35 YEARS OF MARRIAGE
We celebrate our wedding through the whole month of October, and this year we wanted to create daily posts sharing the most important skills, practices and discoveries that have truly created Conscious Loving Ever After. Please enjoy and share.
TURN FEAR INTO FLOW TO GIVE FRESH FUEL TO YOUR RELATIONSHIPS.
At the bottom of relationship issues you'll find one central filter that generates separation—fear. The culture got on the adrenaline-fueled roller coaster of fear several decades ago, so many people don't realize they've been pickled in fear perspectives and images for years. The main problem with fear is the same as what Sophocles noticed a millennia ago: "To him who is in fear everything rustles." (modern translation: Arrgh, it's scary! You're scary! It's not safe!) Here's the big relationship takeaway. When you or I get scared, 2/3 of our brain shuts down, and, without our conscious consent, WE SEE OUR PARTNERS AS ENEMIES. So trying to solve a problem or get close in the middle of fear is truly a ride you can't get off. You DO get off the adrenaline ride when you make friends with fear. This is a huge portal to discovery and renewal. Below are two resources to get you started.
Would you rather be on a team together or in a power struggle that repeats?—your choice.
Fear Melters with Kathlyn Hendricks